Streamline Reporting and Data Capture Within Your Organization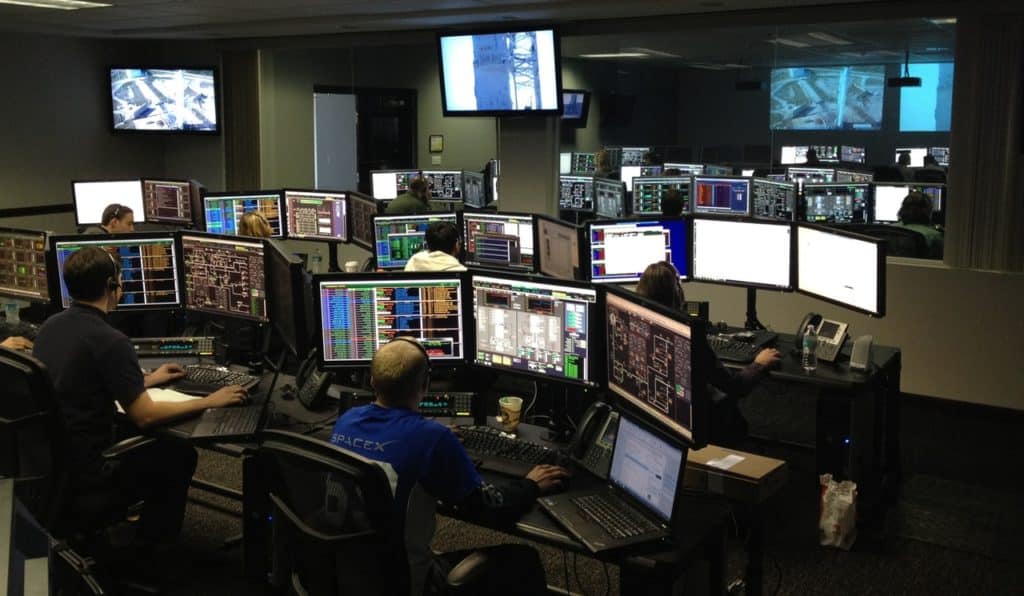 In order to streamline your company operations, your control systems must be able to communicate with each other and localized computer workstations. Cooperative control system networking and communication solutions ensure a smooth transition between each machine and enhance data capture, reporting, and updates.
SOFFA Electric has been actively working to simplify communications challenges across industries, and we work with multi-drop and point-to-point configurations across a variety of channels.
Flexible Industrial Communication Protocols
Our engineers facilitate smart communication among networked industrial devices via both analog and digital communication channels in order to offer the most comprehensive solution for your current or future needs.
Wi-Fi is ideal for short distance device communication and reduces excessive wire and modem clutter.
Twisted pair cable communication protocols help optimize industry control system communications by reducing cross-talk between neighboring modules.
While many may think that traditional modems and phone line communications are obsolete, they still offer a flexible control system communication option for certain needs.
We specialize in:
We have successfully employed a method using Windows Remote Access Server over the Public Switched Telephone Network (PSTN) on a dial-up line.
In control systems where traditional telephone lines are not practical, we have used spread spectrum radio technology to communicate with the sites.
We have been successful with radio manufacturers such as:
To help determine if radio is right for you, we can furnish relevant radio studies or antennas to measure radio strength at your site.
Maximize System Scalability Through Network Connectivity
In this digital age, complete connectivity and automation across your entire organization are not only critical to a long-term industrial strategy, but they're now mandatory for a profitable process. Advanced control system networking solutions from SOFFA Electric can facilitate control panel automation and connect your entire company.
A broad range of industry experience allows us to help clients customize a networking solution that is right for them. Because we are not dependent upon any single vendor or manufacturer; we are able to offer a variety of high-quality networking products, including:
3Com
Motorola
Adtran
US Robotics
CISCO
Our team is well-versed in all popular control system networking protocols and have successfully implemented many local area networks (LAN), wide area networks (WAN), and remote networks and are experienced in both the "bus" and "star" topologies in Profibus and Ethernet networks.
10Bse2 (ThinNet)
10Base-T (Twisted Pair)
100Base-T (Fast Ethernet)
10Base-FL (Fiber Optics)
We specialize in three key panel networking methods (PROFIBUS, Ethernet, & MODBUS/TCP), and we'll help determine which control networking solution is best for your current situation, configure your system, and train your team to get the most out of your network.
PROFIBUS Method
The PROFIBUS networking method is an open field bus solution designed for factory and process automation based on IEC 61158 protocols; it is developed and supported by PROFIBUS International.
Utilizing the PROFIBUS method offers some unique benefits:
Vendor independent with the biggest 3rd party vendor support worldwide.
Most flexible field bus network, providing fast and reliable data exchange and built-in diagnostic capabilities.
Different transmission media options – electrical and fiber optic networks as well as wireless.
A stable but not static technology moving forward while responding to customer requirements without losing compatibility.
Ethernet Method
Ethernet networks have recently moved from the office environment to the production floor. From process automation to discrete applications, to front office reporting, Industrial Ethernet is the one networking line that can connect the entire company.
Fast start-up times thanks to the simplest connection tools.
High availability, because existing plants can be expanded without any downtime.
Extremely flexible communications performance due to the scalable performance that is available with switching networks.
Networking of different application areas, such as the office and the factory floor.
MODBUS/TCP Method
The MODBUS/TCP protocol is a variant of the MODBUS family of simple, vendor-neutral communication protocols intended for supervision and control of automation equipment.
Specifically, it covers the use of MODBUS messaging in an 'Intranet' or 'Internet' environment using the TCP/IP protocols within your organization. At present, the most common use of the protocols is for Ethernet attachment of PLC's, I/O modules, and 'gateways' to other simple field buses or I/O networks.
Remotely access devices via internet or intranet.
Highly scalable, with an extended number of data nodes.
Leverages vendor neutral communication standards.
Ability to take advantage of any existing hardware without compromising connectivity.
A Smooth Delivery Process
To ensure that your system communications are a perfect fit for your system and long-term goals, the engineers at SOFFA Electric follow a specialized process to get the most out of your system:
Assign a specialized consultant or team to manage your project.
Assess your current system and determine which channel(s) is right for you.
Provide detailed research and studies to solidify your communication channels.
Implement and configure your chosen control system networking and/or communication solution.
Troubleshoot any potential issues.
Train your team on current best practices and protocols.